Joyful Swimming
It's not a race, it's an Open Water Adventure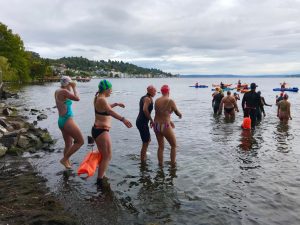 Say Yes to Life Swims is the Northwest's premiere source of open water swim adventures.
Challenge yourself with swims of 1/2 mile to more than 6 miles, supported by experienced water safety escorts.
Since 2011, our non-competitive, small group events have ranked among the safest and most fun in the Northwest.
"I couldn't have asked for a better experience for my first long swims!"
— Stephanie Zimmerman
(advanced from swimming 1/2 mile to a 10k in 2018)
Registration Now Open! Register early to hold your place.
We also offer:
This Season's Escorted Open Water Swims
.5 and 1 mile routes, Lake Washington, May 30th  and June 20th
Great way to transition to the open water. Series of two events (either length) $95
5k, Lake Washington, Saturday June 29th
Includes handmade chocolate trout and branded swim cap. $80
The best practice for your upcoming triathlons. $60 / $75
8k, Lake Washington, Saturday July 27th
Includes OctoPrize and branded swim cap. Special inaugural price: $125 (2019 only)
10k, Lake Washington, Saturday September 14th
Includes champagne or chocolates and branded swim cap. Join swimmers from across the United States! $185
1 mile in Puget Sound, Saturday September 28th
Includes bonfire, fish n' chips, and branded swim cap. $75
Save BIG with Swim Event Packages
Includes four fantastic events from 1/2 mile to -1.2 miles. Perfect for swimmers transitioning to open water.
$230 value for $195.

Save $35!

Three graduated, sequenced events to help swimmers enter the world of marathon swimming. Includes the Tubby Trout 5k, The Amazing OctoChallenge 8k, and Seattle's 10k Open Water Swim.
$390 value for $350.

Save $40!

Includes The Amazing OctoChallenge 8k and Seattle's 10k Open Water Swim. Designed for experienced endurance swimmers.
$300 value for $275.

Save $25!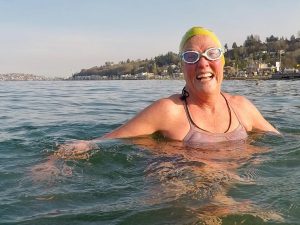 Customized Adventure Swims
We are super-excited to offer customized Customized Adventure Swims for the individual swimmer who dreams big. Discounts for the second swimmer. Now is the time to start thinking of YOUR dream swim!
Meet the Team
Guila (pronounced "Ghee-lah") Muir is Say Yes to Life Swim's founder. With her experienced, friendly group of water safety escorts, Guila helps to ensure that your open water swim experience is both challenging and safe.
Your passion is infectious. Thanks for creating this company.
— Helen, 2015