Joyful Swimming
It's not a race, it's an Open Water Adventure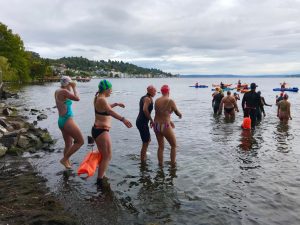 Say Yes to Life Swims is the Northwest's premiere source of open water swim adventures.
Our guiding mission is JOY in the water. We provide experienced support to ensure every swimmer's safety.
Sign up for our newsletter to receive news about our latest offerings, and for tips and techniques to improve your open water swimming.
"I couldn't have asked for a better experience for my first long swims!"
— Stephanie Zimmerman
(advanced from swimming 1/2 mile to a 10k in 2018)
Registration Now Open!
SPECIAL POP-UP SWIMS
In 2020, we offer "pop-up" swims alongside our regularly scheduled events. Registration fees include insurance, support from experienced water safety personnel, and the opportunity to explore areas you may never have known existed–all in a safe, fun way.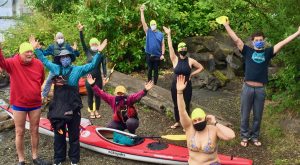 The difference between these and our regularly scheduled events? Pop-up swims are really small! Under current re-opening guidelines, only seven swimmers may participate in each one.
How Pop-Up Swims Work
To register:
Guila will send registration information to the first seven people who apply for each event. You then have 48 hours to register. If you don't register in 48 hours, your place goes to the next person on the waiting list.
The Events
Touch the Wall!
Delightful 1 Mile Swim in Lake Washington
Sunday, July 12th, 9:00 – 11:00 am
$45
The Tiny Trout
Half the Distance of the Iconic Tubby Trout
1.6 miles in Lake Washington
Saturday, July 18th, 9:00 am – 12:00 pm
$50
The following swim events are filling fast. They may also have restrictions on registration.
8k, Lake Washington, Saturday July 25th
Thrill to this endurance challenge and pick up your OctoPrize.
1.5 miles, Bowman Bay, Saturday August 15th
After your swim, enjoy a gourmet picnic in the sun.
10k, Lake Washington, Saturday September 19th
Includes Marathon Swimmer Certificate and sticker.

1 mile in Puget Sound, Saturday September 26th
Includes bonfire, fish n' chips, and branded swim cap.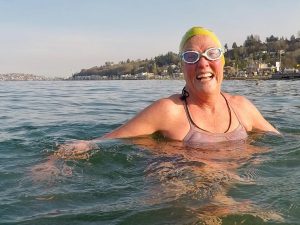 We Also Offer:
Meet the Team
Guila (pronounced "Ghee-lah") Muir is Say Yes to Life Swim's founder. With her experienced, friendly group of water safety escorts, Guila helps to ensure that your open water swim experience is both challenging and safe.
Your passion is infectious. Thanks for creating this company.
— Helen, 2015