Joyful Swimming
It's not a race, it's an Open Water Adventure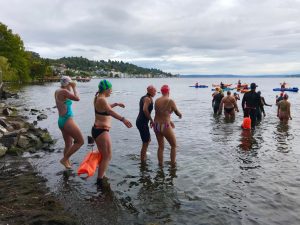 Say Yes to Life Swims is the Northwest's premiere source of open water swim adventures.
Challenge yourself with swims of 1/2 mile to more than 6 miles, supported by experienced water safety escorts.
Since 2011, our non-competitive, small group events have ranked among the safest and most fun in the Northwest.
"I couldn't have asked for a better experience for my first long swims!"
— Stephanie Zimmerman
(advanced from swimming 1/2 mile to a 10k in 2018)
Registration for 2020 events begins in March
Sign up for our newsletter for announcements, special events, discounted Early SeaBird swim lessons, and more. Be sure to reserve your place by registering early in 2020.
What to Look Forward to in 2020?
We will offer the four super-popular events below, along with several others of varying distances. Particularly watch for the incredible Wilderness Adventure Ocean Swim in the Deception Pass, WA area. It includes several routes, a gourmet meal, wildlife sightings, a bonfire, and more.
Use this overview to envision your 2020 season!
Thursday Evening Stress Relief Series

.5 and 1 mile routes, Lake Washington
Great way to transition to the open water. Series of two events.

Tubby Trout 5k Open Water Swim

5k, Lake Washington
Includes handmade chocolate trout and branded swim cap.

Seattle's 10k Invitational Open Water Swim

10k, Lake Washington
Includes champagne or chocolates and branded swim cap. Join swimmers from across the United States! 

9th Annual Awesome Alki Bash

1 mile in Puget Sound
Includes bonfire, fish n' chips, and branded swim cap.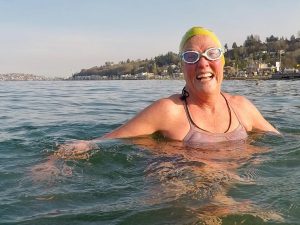 We Also Offer:
Meet the Team
Guila (pronounced "Ghee-lah") Muir is Say Yes to Life Swim's founder. With her experienced, friendly group of water safety escorts, Guila helps to ensure that your open water swim experience is both challenging and safe.
Your passion is infectious. Thanks for creating this company.
— Helen, 2015