Joyful Swimming
It's not a race, it's an Open Water Adventure
THANKS to all swimmers and water support during this difficult time.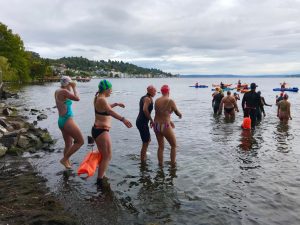 Say Yes to Life Swims is the Northwest's premiere source of open water swim adventures. We help you discover your best self in the water.
In 2020, we provided 9 events ranging from 1/2 to 5 miles, strictly adhering to all Covid requirements. We provided 45 swimmers with individual lessons and aired a live, virtual open water swim clinic.
We'll kick off lessons and coaching in mid-April, and our Escorted Open Water Swims will begin in May.  We look forward to seeing you.
SOME OF WHAT'S COMING IN 2021
New! Open Water Breaststroke Clinic and Extravaganza
Seattle's 10k (5th Annual)
Free Paddler Self-Rescue Clinics
Escorted Individual Swims
Multiple "pop-up" swim events, fully insured and limited in size
Plus a variety of Escorted Open Water Swim events and expert lessons. Sign up for our newsletter.
"I couldn't have asked for a better experience for my first long swims!"
— Stephanie Zimmerman
(advanced from swimming 1/2 mile to a 10k in 2018)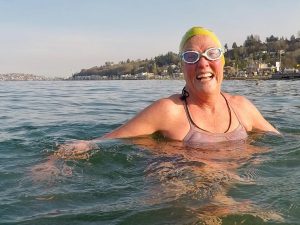 We Also Offer:
Meet the Team
Guila (pronounced "Ghee-lah") Muir is Say Yes to Life Swim's founder. With her experienced, friendly group of water safety escorts, Guila helps to ensure that your open water swim experience is both challenging and safe.
Your passion is infectious. Thanks for creating this company.
— Helen, 2015