Joyful Swimming
It's not a race, it's an Open Water Adventure
Say Yes to Life Swims is the Northwest source of swim adventures (US). Our name stems from saying YES to new experiences, getting out of our comfort zones, and opening to the wonders around us. That's what open water swimming is all about.
Join us for escorted open water swim events, Wilderness Excursions (re-starting in 2022), open water swim lessons, and customized adventure swims.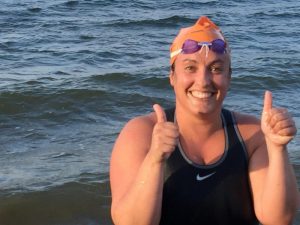 We celebrate our tenth year in 2021. Come celebrate with us!
August 14th, 10:00 am – 1:00 pm
September 12th, 9:00 am – 3:00 pm
September 25th, 11:00 am – 1:00 pm
Pop-Up Swim Events
We are also proud to offer at least four additional "pop-up" swims, announced solely through our newsletter and registered for separately. These include:
AUGUST BLAST

.5-mile or 1-mile route, especially for swimmers newer to the open water. Write us stating your interest. Registration closes Tuesday, August 3rd.

AGUA FRESCA

1.2 or 2.4 miles, October 3 9:00 – 11:00 am

FALL SWIM EXCURSION

1 mile, October 17 9:00 – 11:00 am
"I couldn't have asked for a better experience for my first long swims!"
— Stephanie Zimmerman
(advanced from swimming 1/2 mile to a 10k in 2018)
Sign up for our newsletter for announcements and special events.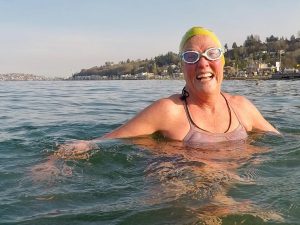 Check out:
Meet the Team
Guila (pronounced "Ghee-lah") Muir is Say Yes to Life Swim's founder. With her experienced, friendly group of water safety escorts, Guila helps to ensure that your open water swim experience is both challenging and safe.
Your passion is infectious. Thanks for creating this company.
— Helen, 2015