Deception Pass Adventure Swim
Event Navigation
Register
There were errors with your submission. Please try again.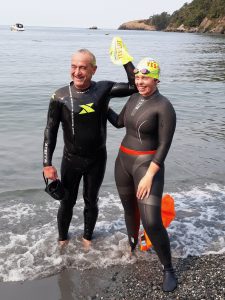 What an amazing venue, and a true adventure. This supported 1.5-mile event includes a gourmet picnic lunch. Bring the family, and explore hiking trails after you swim.
NOTE: Parking at this venue requires a Discover Pass. You can buy a day pass here. Here is info about camping.

Registration for this event closes at midnight, Wednesday, August 10th, or when all spaces are filled, whichever comes first.
Date: SATURDAY, August 13th
Time: 10:00 AM – 1:00 PM
Cost: $125 Includes gourmet picnic lunch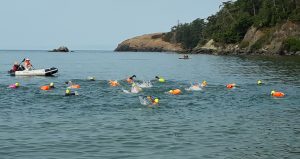 MANDATORY SAFETY MEETING VIA ZOOM
7:30 pm PT, Thursday, August 11th
You must participate in this meeting in order to swim. Please factor this requirement into your decision to register.
Details
Location: Bowman Bay, Washington. Directions provided on registration.
Length: 1.5 miles (approximate)
Level: Medium difficulty, but cold.
Wetsuit: Wetsuits are REQUIRED unless Guila gives you the OK not to wear one. Water temperature will be in the mid-to-high 50's. Please acclimate yourself before this swim.
See a complete list of 2022 events.
Save Money on this Event
This is a great event to do with a friend. Save $20 with the Fun and Friends discount!
Waiver/Safety Plan
To swim with us, you must read and agree to the Say Yes to Life Liability Waiver/Safety Plan.
Subscribe to our newsletter to be notified of special events and "pop-up" swims.