Freshwater Otter Series
Event Navigation
Register
There were errors with your submission. Please try again.

Save $5 on 2 Sequenced Events
Build your confidence and enjoyment in the open water.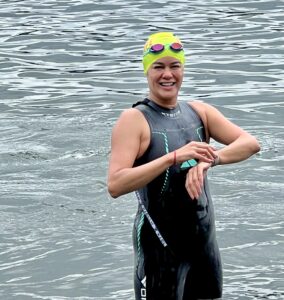 The Freshwater Otter series includes:
Choose either .5 or 1 mile for your Thursday Evening Stress Relief Swim. Then challenge yourself with the 1 mile Touch the Wall!
Registration for the Freshwater Otter series closes at midnight on Monday, May 29th, or when all spaces are filled, whichever comes first.
Cost: $135 (Save $5!) Includes cap and sticker
TWO (2) MANDATORY SAFETY MEETINGS VIA ZOOM
7:30 pm PT, Tuesday May 30th (Thursday Evening Swim) AND
7:30 pm PT, Thursday June 15th (Touch the Wall!)
You must participate in these meetings in order to swim. Please factor this requirement into your decision to register. Meeting recording will not be available.
Discounts on Other Open Water Swim Events
Learn how you can pay less with our discount options.
See a complete list of 2023 events.
Waiver/Safety Plan
To swim with us, you must read and agree to the Say Yes to Life Liability Waiver/Safety Plan.
Subscribe to our newsletter to be notified of special events and "pop-up" swims.