Touch the Wall!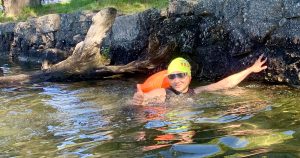 An out-and-back supported swim in a scenic location, .5 miles each way.
This fun opportunity to practice your sighting and stroke is a great follow-up to the Thursday Evening Swims. Proudly take home your "I Touched the Wall" sticker!
Registration for this event closes at midnight Wednesday, June 15th, or when all spaces are filled, whichever comes first.
Date: SUNDAY, June 19th
Time: 9:00 AM – 11:00 AM
Cost: $65 Includes "I Touched the Wall!" sticker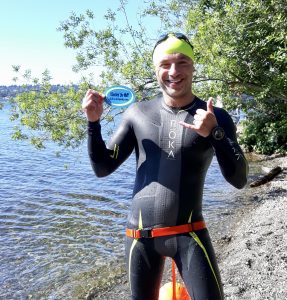 MANDATORY SAFETY MEETING VIA ZOOM
7:30 pm PT, Thursday, June 16th
You must participate in this meeting in order to swim. Please factor this requirement into your decision to register.
Details
Location: South Lake Washington. Specific directions provided in the Welcome Letter sent to all registered participants.
Length: 1 mile (.5 miles each way)
Level: Medium
Water: Fresh
Wetsuit: Your choice to wear one or not
See a complete list of 2022 events.
Be a Freshwater Otter and Save $15
Build your confidence and endurance with a series of three sequenced events: the Freshwater Otter series includes two (2) Thursday Evening Stress Relief Swims and Touch the Wall!
Waiver/Safety Plan
To swim with us, you must read and agree to the Say Yes to Life Liability Waiver/Safety Plan.
Subscribe to our newsletter to be notified of special events and "pop-up" swims.