Seattle's Annual 10K Invitational Open Water Swim
Event Navigation
Welcome to the world of marathon swimming!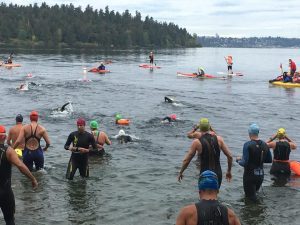 This challenging endurance event in Lake Washington is for experienced distance swimmers only. Come celebrate its third year! We purposefully limit registration in Seattle's 10k Invitational to twenty-five qualified participants. Last year, many swimmers described it as one of the best open water experiences they'd ever had.
All swimmers will receive a commemorative mug and branded swim cap; all support personnel receive their choice of champagne or chocolate. Swimmers must provide their own paddlers to supplement our trained safety craft, which includes kayakers, stand-up paddlers, and at least one Zodiac.
Like all our events, Seattle's 10k Invitational is non-competitive. Swimmers challenge only themselves. The result is a truly fulfilling and holistic outdoor adventure, with camaraderie and swag that can't be beat. We hope you join us this year!
How to Register
We accept participants based on their RECENT open water swim experience. Preference is given to those who have swum further than 5k in the open water at least twice in the last two years.

To receive the registration link, please contact Guila describing your open water swim experience. In your e-mail, please describe your training plans for this 10k event. If you are accepted, Guila will provide the link to register. Note: Swimmers who complete the 2019 OctoChallenge are encouraged to apply, and those who swam our 10k Invitational Open Water Swim in 2018 may simply request the registration link.
Registration for this event closes at midnight on Wednesday, September 11th, or when all spaces are filled, whichever comes first.
Date: SATURDAY, September 14th
Time: 9:00 AM – 3:00 PM
Cost: $185
Details
Location: Lake Washington. Details included in the Welcome Letter, which you will receive approximately two weeks before the event.
Length: 10k (Approximately 6.2 miles)
Level: Challenging. Please register only if you are confident in your ability to swim the entire distance.
Wetsuit: Your choice to wear one or not. Many swimmers get very cold spending this long in the water, so please be thoughtful about your choice.
Save Money on this Event
Learn how you can pay even less for your choice of Escorted Open Water Swim events with our discount options!
Waiver/Safety Plan
To swim with us, you must read and agree to the Say Yes to Life Liability Waiver/Safety Plan.