Seattle's 10K Open Water Swim
Event Navigation
Swim a marathon distance on the fifth anniversary of this exciting event! Many swimmers describe Seattle's 10k as the highlight of their season. It combines beauty and challenge into an unforgettable adventure.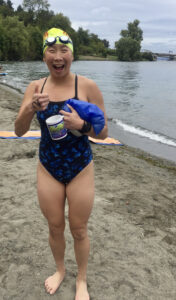 Swimmers receive a Seattle 10k OWS sticker and certificate. All water safety volunteers receive their choice of champagne or chocolate.
Swimmers of all speeds participate. For safety reasons, there is a 6-hour cut-off. Support watercraft will pick up any swimmers still in the water after the six hour mark. NOTE: Most swimmers must provide their own paddlers to supplement our trained safety craft.
How to Register
We accept participants based on their RECENT open water swim experience. Preference is given to those who have swum 5k or further in the open water at least twice in the last two years. (Tubby Trout swimmers, this is your opportunity!) To receive the registration link, please contact Guila. Include qualifying details, such as data from your tracking device, course record, race results, etc. Also describe your training plans for this 10k event.
If you are accepted, Guila will provide the link to register, along with more information.
Registration for this event closes at midnight on Tuesday, July 25th, or when all spaces are filled.
Date: SATURDAY, July 29th
Time: 9:00 AM – 3:00 PM
Cost: $195
MANDATORY SAFETY MEETING VIA ZOOM
7:30 pm PT, Thursday, July 27th

You must participate in this meeting in order to swim. Please factor this requirement into your decision to register. Meeting recording will not be available.
Details
Location: Lake Washington, Seattle. Details included in the Welcome Letter, which you will receive approximately two weeks before the event.
Length: 10k (Approximately 6.2 miles)
Level: Challenging. Please register only if you are confident in your ability to swim the entire distance.
Wetsuit: Your choice to wear one or not. Many swimmers get very cold spending this long in the water, so please be thoughtful about your choice.
Combine Seattle's 10k with Tubby Trout. Save $15 and swim a total of 13k (8 miles).
The Vanquisher Swim Series will test your limits while you have fun and save money.
Discounts on Other Open Water Swim Events
Learn how you can pay less with our discount options.
See a complete list of events.
Waiver/Safety Plan
To swim with us, you must read and agree to the Say Yes to Life Liability Waiver/Safety Plan.
Subscribe to our newsletter to be notified of special events and "pop-up" swims.