Tubby Trout 5k Open Water Swim
Event Navigation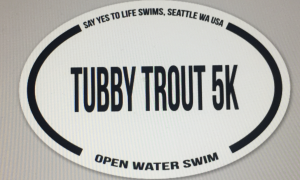 Test your endurance while enjoying beautiful Lake Washington. All swimmers receive a Tubby Trout 5k sticker and a cupcake to celebrate the Trout's tenth anniversary!
The Tubby Trout provides the training you need for any endurance event. Though super-fun, this event is challenging.
"Fantastic."
— Ira B, 2020
Registration for this event closes at midnight Wednesday, June 22nd, or when all spaces are filled, whichever comes first.
Date: SATURDAY, June 25th
Time: 9:00 AM – 1:00 PM
Cost: $85 Includes cap and sticker
MANDATORY SAFETY MEETING VIA ZOOM
7:30 pm PT, Thursday, June 23rd
You must participate in this meeting in order to swim. Please factor this requirement into your decision to register.
Details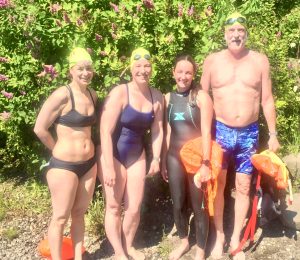 Location: Lake Washington, South Seattle. Directions provided on registration.
Length: 5k (3.2 miles)
Level: Challenging. You may experience strong chop and wind. Please register only if you are confident in your ability to swim the entire distance.
Wetsuit: Your choice. Water temperature will be in the mid 60's. Please acclimate yourself before this swim.
See a complete list of 2022 events.
Save $25 with a Swim Series
The Intrepid Swim Series includes Tubby Trout as well as The OctoChallenge. Consider widening your horizons with these sequenced events while saving money. (You can also pay less with additional discount options.)
Waiver/Safety Plan
To swim with us, you must read and agree to the Say Yes to Life Liability Waiver/Safety Plan.
Subscribe to our newsletter to be notified of special events and "pop-up" swims.