Open Water Swim Lessons
Event Navigation
Register
There were errors with your submission. Please try again.

Discover Your Best Self
Have you always wanted to try open-water swimming, but feel a bit "iffy" about what might be lurking below? Or are you already a stellar swimmer whose next goal is to conquer outdoor distances? Whatever your level, working with Guila will improve your sighting, open water stroke, and endurance. Guila will help you love swimming in the open water.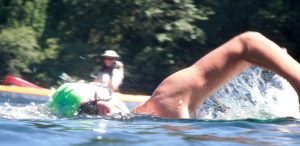 "You are a fantastic teacher and guide. Thanks for making 2020 bearable."
— Babs, 2020
"That was amazing Guila! I learned so much and it will be really fun to practice now that I actually know what to practice. You are a gifted teacher."
— Sally N, 2021
Guila is especially sensitive to the needs of new open-water swimmers. She is a USMS certified swim coach and a professional adult educator. She will find ways that work for YOU in the open water.
Details
When you register, we send you an email confirmation with all essential details about what to bring and what to expect. Simply reply to that email to schedule your lessons.
Lesson Length: 45 minutes
Available Days: Tuesdays and Fridays
Available Times: On the hour, 2:00 PM – 6:00 PM
Location: Colman Park,  Seattle
Level: All levels welcome. Eligibility criteria: You must be able to float comfortably for several minutes both on your stomach and your back. If you do not currently meet this criteria, please take swim lessons in a pool first.
Water: Fresh
Wetsuit: Depends on your preference. You will receive more information about wetsuits in the Welcome Letter.
Waiver/Safety Plan
To register for lessons, you must read and agree to the Say Yes to Life Liability Waiver/Safety Plan.
If you have questions or need additional information before registering for lessons, feel free to contact us.