About Escorted Open Water Swim Adventures
It's not a race…it's an Escorted Open Water Swim!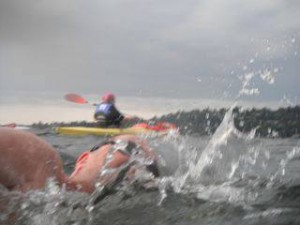 If you want to challenge yourself while swimming non-competitively with others, our Escorted Open Water Swim Adventures are for you. Hundreds have swum with us since 2011.
"I was able to challenge and race against myself and the elements, not other people. Loved it." — Bob B, 2016
What Makes Escorted Open Water Swims Unique?
We provide the highest quality safety accompaniment, maintaining a support ratio of one safety escort per (maximum) five swimmers. Our team may include on-water support personnel with Emergency Management Technician (EMT) and Coast Guard experience.
All Escorted Open Water Swims include at least one escort holding current Red Cross CPR certification, and an independent Safety Officer with cancellation authority. All events are fully insured.
Escorted Open Water Swims provide:
Support by a minimum of one paddler per every four swimmers.
Sighting and open water swim tips.
Use of a changing cabana.
Snacks and warm or cold drink after the swim.
Pre-swim shoulder mobility exercises.
Use of post-swim CoreWarmers, to help you warm up fast if necessary.
Wetsuit rental and purchase suggestions.
Who Participates?
Our clients range from driven, successful triathletes to pool swimmers transitioning to open water swimming. Each event accommodates 20-25 swimmers, keeping safety and customization at the forefront.
"It was so perfect. Thanks so much for creating this terrific community."
— Carmen, 2018

Terms and Conditions
We can NOT refund registration fees. In emergency situations, we may allow you to apply your registration fee to a different event.

Someone else cannot swim for you. 
Please assess your own skills. Register only if you know you have the fitness and endurance for the event(s) you are interested in.
Please carefully read the Waiver and Safety Plan before registering.
We reserve the right to use photos from all events for promotional purposes.
When and Where do the Escorted Open Water Swims Take Place?
Most take place in the Seattle, Washington area, both in Puget Sound and in Lake Washington. We offer weekend and mid-week events to fit every swimmer's schedule.
Your Registration Supports a Healthy Puget Sound
Every time you swim with us, you help our local waters. We donate a portion of each swim's registration fee to Oceana and  Puget Soundkeeper's Alliance.