It's Not a Race…it's an Adventure
If you want to challenge yourself while swimming non-competitively with others, our Escorted Open Water Swim Adventures are for you. Hundreds have swum with us since 2011.
"I was able to challenge and race against myself and the elements, not other people. Loved it." — Bob B, 2016
What Makes Our Escorted Open Water Swims Unique?
Events are limited to twenty participants. Since safety is paramount, we support swimmers with the highest-quality water safety escorts. All events are insured. Personnel includes a director with current Red Cross CPR certification, a Safety Officer with cancellation authority, and multiple volunteers with a variety of lifeguard and water safety expertise.
Escorted Open Water Swims provide:
Support by a minimum of one paddler per every four swimmers.
Sighting and open water swim tips.
Unique swag and prizes.
Pre-swim shoulder mobility exercises.
Individual portrait of each swimmer.
20% discount on BlueSeventy wetsuit purchases (Shoreline location only)
Who Participates?
Our clients include college swimmers and triathletes to relatively beginning swimmers and those transitioning to the open water. There is a place for you here.
"It was so perfect. Thanks so much for creating this terrific community."
— Carmen, 2018

Terms and Conditions for Lessons and Events
We cannot refund fees for swim lessons or events. In emergency situations, we may allow you to apply your registration fee to a different event or lesson time in the same year. Registrations cannot be carried from year to year and are not transferable.
Events: You must participate in each event's Safety Meeting and Route Overview (via Zoom) to swim. No refund is provided for those who miss this meeting. Make sure to check your calendar and schedule the meeting before registering.
Lessons: Once scheduled, we highly discourage rescheduling swim lessons. Sometimes it is impossible to find an alternative slot. If a change must occur, notice must be given at least 24 hours before the scheduled time. Lessons cancelled less than 24 hours before the scheduled time will NOT be refunded.
Please carefully read the Waiver and Safety Plan before registering.
Please assess your own skills. Register only if you know you have the fitness and endurance for the event(s) you are interested in.
Swimmers and volunteers must be at least 16 years old.
We reserve the right to use photos from all events for promotional purposes.
For sustainability, please re-use your swim cap from previous Say Yes to Life Swim events.
When and Where do the Escorted Open Water Swims Take Place?
Most take place in the Seattle, Washington area, both in Puget Sound and in Lake Washington. Wilderness Excursions take place in small, pristine lakes within one hour of Seattle. We offer weekend and mid-week events to fit every swimmer's schedule.
Guila Muir: Training and Experience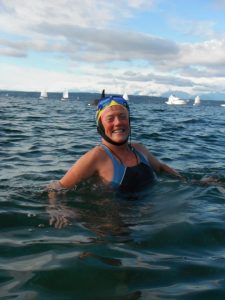 Certified Level 2 Swim Coach, American Swimming Coaches Association (ASCA)
Aquatic Therapy & Rehab Institute Certification, Aquatic Exercise Association (AEA)
Certified Swim Coach and Adult Learn to Swim Coach, US Masters Swimming (USMS)
Adult Swim Instructor, Orca Swim School
Open Water Coaches Masterclass, Immerse Hebrides (2022)
Open Water Coaches Conference: Swim Teachers Association/Straight-Line Swimming (UK, 2020)
International Winter Swimming Championships 2020, Skelleftea, Sweden (won my division)
Swim Smooth Masterclass Clinic (San Diego, 2018)
Founder and Organizer, "Women in the Open Water" International Panels, Seattle WA (2017, 2019, 2023)
Presenter or Panel Moderator: Cold Hands, Warm Hearts (2023), Puget Plunge (2018), Salish Splash (2019) Salish Sea Ecosystem Conference (2014),
10-time crosser, Alcatraz to San Francisco; Salish Sea 5k (2017); Portland Bridges Swim 2015 (11 miles); Bridge to Bridge Swim 2013 (10k), all non-wetsuit
Year-round "skin" Puget Sound and Lake Washington swimmer
Red Cross CPR and AED certified, lifeguard training and experience
Masters of Adult Education and CEO, Guila Muir and Associates, LLC
Your Registration Supports a Healthy Puget Sound
Every time you swim with us, you help our local waters. We donate a portion of each swim's registration fee to Oceana and  Puget Soundkeeper's Alliance.