8th Annual Awesome Alki
Event Navigation
Register
There were errors with your submission. Please try again.

Words can't do justice to this exuberant Autumn swim in the Salish Sea. A favorite with swimmers for years, Awesome Alki is the pinnacle of the season. Many who swim this event go on to Alcatraz and to swim other ocean challenges.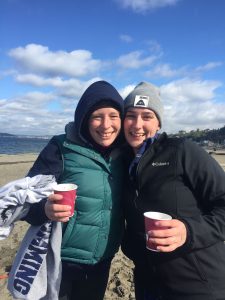 You'll potentially see crab and starfish as you swim, and warm yourself by the bonfire as you enjoy your fish n' chips from West Seattle's famous Spud Restaurant. The camaraderie is exuberant and invigorating as we celebrate the close of our 2019 season.
Note: You will feel most comfortable in this event if you continue your open water swimming into September and October. There may be strong current and/or wind.
Join us for the joyful and invigorating Awesome Alki!
Registration for this event closes at midnight on Wednesday, September 25th, or when all spaces are filled, whichever comes first.
Date: SATURDAY, September 28th, 2019
Time: 11:00 AM – 1:00 PM
Cost: $75
Details
Location: Alki Beach
Length: 1 mile
Level: Medium
Includes: Beach Bonfire, Fish 'n Chips
Water: Salt, water temperature will be in the mid-50's.
Wetsuit: Mandatory (unless you get an OK from Guila to swim "skin")
Save Money on this Event
Learn how you can pay even less for your choice of Escorted Open Water Swim events with our discount options!
Waiver/Safety Plan
To swim with us, you must read and agree to the Say Yes to Life Liability Waiver/Safety Plan.