Thursday Evening Stress Relief Swim Series
Event Navigation
Register
There were errors with your submission. Please try again.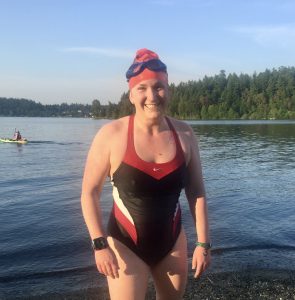 This two-event series offers a supportive, fun introduction to organized open water swimming. Registration fee includes an interactive Open Water Swim Clinic and resource packet. Choose either the .5 mile or the 1 mile route each time.
Registration for this series will close at midnight Tuesday, May 25th, or when all spaces are filled, whichever comes first.
Dates: THURSDAYS May 27th and June 3rd
Time: 6:30 PM – 8:30 PM
Registration Fee: $95 (includes both events and Swim Clinic)
Details
Location: Lake Washington, South Seattle. Directions provided on registration.
Length: .5 or 1 mile — choose on arrival.
Level: Easy to Medium
Water: Fresh
Wetsuit: Strongly suggested. Water temp will be in the low-60s.
Become a Swim Animal and Save $20
The "I Am a Swim Animal" special includes this event as well as Awesome Alki's 10th Anniversary on September 25th. Start in May with these Thursday Evening Swims, swim all summer long, and then jump into the surf with us–while saving money.
Learn how you can pay even less for your choice of Escorted Open Water Swim events with our discount options.
Waiver/Safety Plan
To swim with us, you must read and agree to the Say Yes to Life Liability Waiver/Safety Plan.
See a list of all 2021 Escorted Open Water Swim Events.
Subscribe to our newsletter to be notified of special events and "pop-up" swims.