Wilderness Swim Excursion
Event Navigation
Register
There were errors with your submission. Please try again.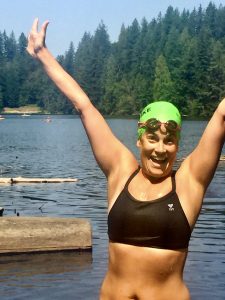 Join us for an unforgettable swim excursion. This small, sublime lake, whose name and location is known only to registered swimmers, is closed to motorized boats.
The Wilderness Excursion includes a picnic lunch, snacks, paddle support, changing cabana, Wilderness Pass (if driving), and additional treats. A licensed, on-site massage therapist will treat several lucky participants to a free massage.
We will carpool (masked) from the Mercer Island Park and Ride. Be prepared for a luxurious, relaxing, and enjoyable day.
Talk about swimming in luxury. It was so fun!
— Lisa W, 2018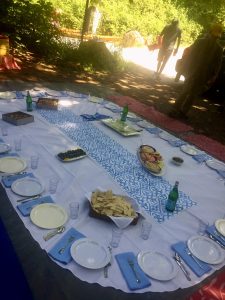 I can't believe the care and attention to detail that goes into these Adventures. I had a great time.
— Steven S, 2016
Registration closes at midnight on Wednesday, July 13th, or when all spaces are filled. Register early to secure your place.
Date: SATURDAY, July 16th
Time: 10:00 AM – 1:00 PM
Cost: $125 Includes picnic, Wilderness Pass (if driving), treats, and massage for a lucky few
MANDATORY SAFETY MEETING VIA ZOOM
7:30 pm PT, Thursday, July 14th
You must participate in this meeting in order to swim. Please factor this requirement into your decision to register.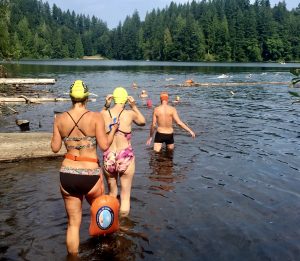 Details
Location: Known to registered swimmers only
Length: Approximately 1.5 miles
Level: Medium
Water: Fresh
Wetsuit: Your choice to wear one or not
See a complete list of 2022 events.
Save Money on this Event
Learn how you can pay even less for your choice of Escorted Open Water Swim events with our discount options!
Waiver/Safety Plan
To swim with us, you must read and agree to the Say Yes to Life Liability Waiver/Safety Plan.