April 26th, 2021

Open Water Swimming for Triathletes

How do you keep your open water mojo primed for that magical moment when you can compete once again?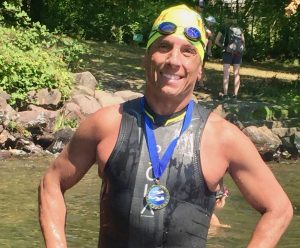 To stay on top of your game, you must train in the open water. Learning to deal with chop, waves, wind, and current will prepare you like nothing else when you can finally do your tri.
Three Tips for Success

1. Get outside early. Start swimming outdoors early in the season. Set a goal of completing 80%-90% of your race distance, and celebrate when you achieve it.
Because you are immersing early, you absolutely must acclimate. Cold water robs the body of heat 32 times faster than cold air. Stay in a maximum of ten minutes at first. Extend your distance and duration each time.
Expect to feel an "ice-cream" sinus headache during your first few minutes in the water. Your face may hurt. Relax and be patient…like many things in triathlon, pain is part of the process!
Remove your swimsuit and wetsuit quickly once you exit the water. Because of vasoconstriction, you may feel colder 15-30 minutes after your swim than you did while swimming.
If you are combining your swim with a run, always swim first. Triathletes who run first risk feeling uncomfortably cold in the water.
2. Use appropriate gear. The following gear will help you get a leg up on your competitors.
Professionally fitted wetsuit. Eschew on-line purchasing; a careful fitting is important. Warning: Although your wetsuit provides buoyancy, it is not a Personal Flotation Device (PFD). Wearing one will not save your life.
Neoprene cap. This protects you in the early season. Pull a bright latex or silicone cap over it to increase your visibility.
Swimmer Safety Device. Swimmers can usually see boaters, but boaters often cannot see swimmers. Buckling around your waist and trailing behind you, Swimmer Safety Devices make you more visible in the water. Like wetsuits, they are not meant to be used as PFDs.
3. Swim with experienced paddlers. It's best to train with a group, but even better to swim with an experienced kayaker. Your kayaker must carry an extra PFD for you. They should know CPR and carry a phone in case of emergency.
Challenge yourself! Keep track of your times, and try to beat them. For fun and camaraderie, register for an open water swimming event. Watch this video for all the info you need to kick off your training, and read this article from the Seattle Times.
Triathletes, happy training! See you in the water.
Guila Muir is the founder of  Say Yes! to Life Swims LLC, the Northwest's premiere source of escorted open water swims. Join us to practice sighting and swimming in a pack while you test your endurance and open water skills!