Swim Animal
Event Navigation
This package has been canceled.
Please stay home if you can, and stay safe!
Save $25 on a Package of 3 Introductory Events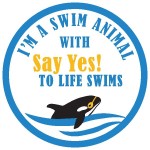 Are you transitioning into open water swimming? Would you like to swim in both fresh and salt water? Do you want to enjoy well-organized events with lots of safety support, while you save money?
If you answered "yes" to any of these questions, become a 2020 Swim Animal! Pay only $175 for these fantastic open water swim experiences, worth $200 if registered for separately:
"I am thrilled that Say Yes to Life swims propelled me into the open water. I'll never go back!"
—Kristin, 2018 Swim Animal
Cost: $175 Save $25
Additional Savings on these Events
Learn how you can pay even less for your choice of Escorted Open Water Swim events with our discount options!
Waiver/Safety Plan
To swim with us, you must read and agree to the Say Yes to Life Liability Waiver/Safety Plan.