Silver Seals Swim
Event Navigation
Register
There were errors with your submission. Please try again.

Celebrate the dynamism of our age with a fun, cold swim. We'll start at at the Alki bathhouse and swim northeast along the beach as friends and family cheer us on. This event is FREE, but all swimmers must register and be over the age of 55. If you prefer to plunge instead of swim, that is also fine!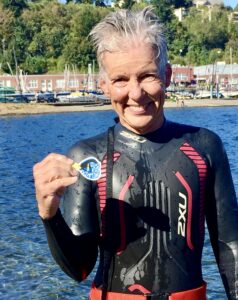 Date: SUNDAY, October 8th, 2023 Registration closes October 3rd.

Time: 11:00 am-12:30 pm
Cost: FREE. Coffee provided. Please consider bringing treats to share after the swim.
MANDATORY SAFETY MEETING VIA ZOOM
7:30 pm PT, Thursday October 5th
You must attend in order to participate. Please factor this requirement into your decision to register. No meeting recording will be available.
Details
Location: Alki Beach, Seattle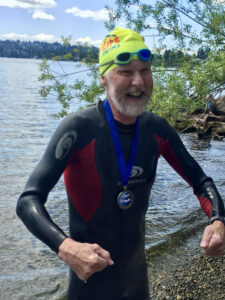 Length: 3/4 mile
Level: Medium
Water: Salt
Wetsuit: Mandatory unless you are plunging only.  "Skin" swimming allowed only if cleared with Guila at least one week in advance.
Preparation: Stay acclimated by swimming into the Fall. Bring lots of warm clothes!
Discounts on Other Open Water Swim Events
Learn how you can pay less with our discount options.
See a complete list of events.
Waiver/Safety Plan
You agree to our waiver when you register. Take another look! Liability Waiver/Safety Plan.
Subscribe to our newsletter to be notified of special events and "pop-up" swims.