You Are Invited to Register for Seattle's 10K Open Water Swim
Event Navigation
Register
There were errors with your submission. Please try again.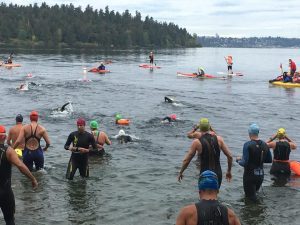 Congratulations! You have been accepted to register for this elite event. PLEASE RECRUIT A PADDLER. A kayaker is preferred. That paddler will join our safety team, and will provide you feedings and water as needed.
Registration for this event closes at midnight on Tuesday, July 25th, or when all spaces are filled. Register early to secure your place.
Once you register, please train in earnest. Many marathon swimmers find the 10k Dart Training Plan useful. (If you have a training plan you'd like to share, please let us know.)
We will check in with you to ask how your training is progressing at least once before the swim.Approximately one week before the event, we'll send you your Welcome Letter with all essential details.
"The safety aspect was very impressive. I don't remember more safety awareness at any event. That is so reassuring and worth paying for."
— Melinda B, 2016
Date: SATURDAY, July 29th
Time: 9:00 AM – 3:00 PM
Cost: $195
MANDATORY SAFETY MEETING VIA ZOOM
7:30 pm PT, Thursday, July 27th

You must participate in this meeting in order to swim. Please factor this requirement into your decision to register. Meeting recording will not be available.
Details
Location: Lake Washington, Seattle. Details included in the Welcome Letter, which you will receive approximately two weeks before the event.
Length: 10k (Approximately 6.2 miles)
Level: Challenging. Please register only if you are confident in your ability to swim the entire distance.
Wetsuit: Your choice to wear one or not. Many swimmers get very cold spending this long in the water, so please be thoughtful about your choice.
Combine Seattle's 10k with Tubby Trout. Save $15 and swim a total of 13k (8 miles).
The Vanquisher Swim Series will test your limits while you have fun and save money.
Waiver/Safety Plan
To swim with us, you must read and agree to the Say Yes to Life Liability Waiver/Safety Plan.
Subscribe to our newsletter to be notified of special events and "pop-up" swims.